Testing Options
Our highly trained Analysts come from backgrounds in forensic science, pharmaceutical research, and toxicology; many hold advanced degrees at the masters and doctoral levels.
Utilizing both Immunoassay and Liquid Chromatography/Tandem Mass Spectrometry (LC/MS/MS) technology, Capital Toxicology provides physicians with a definitive analysis of a wide array of substances of abuse, in an easy-to-read report format. We will cross-reference the patient's medication list with the results and deliver a comprehensive report within 48 hours of specimen receipt
Some of the Analytes We Test For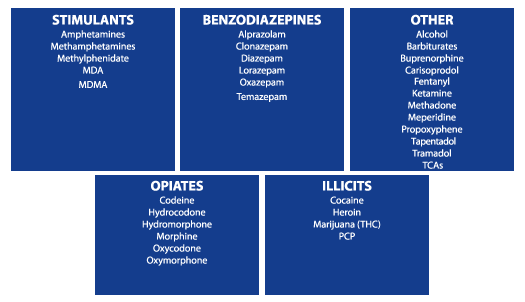 Screening/Qualitative Method
We use Enzyme Immunoassay (EIA) to screen for the presence of a drug or metabolite. If positive on the EIA screen, the sample is sent to confirmation for more specific analytical methods, if ordered by the physician. This qualitative testing can be performed at the lab or in a CLIA-Waived physician's office with a Point of Care Test device.
Point of Care Testing
Many physicians enjoy the benefits of a Point of Care Test (POCT), which allows for the initial screening by immunoassay to take place in the office at the time of the patient's visit. This model provides an opportunity for the physician to discuss the screening results with the patient prior to the issuance of a prescription for a scheduled medication. Further testing at the laboratory is required for confirmation of initial results.
In order to incorporate Point of Care Testing in your practice, physicians must first seek a certification from The Department of Health and Human Services in the form of a CLIA Certificate of Waiver. More information on that process can be found at www.cms.hhs.gov/CLIA. Once a physician has obtained a CLIA Certificate of Waiver and proper staff training has taken place, the use of Point of Care Tests can begin. Your Capital Toxicology representative can educate you on the CLIA process and show you various test devices to choose from.
Confirmation/Quantitative Method
When Confirmation and Quantitative analysis is requested, our Analysts turn to Liquid Chromatography coupled with Tandem Mass Spectrometry (LC/MS/MS). LC/MS/MS is the "platinum standard" for analytical toxicology and offers superior results over more outdated analytical methods. Our methods allow us to detect drugs at concentrations in the nanograms per milliliter (ng/mL) range.
Making Test Selections
Capital Toxicology is committed to our role in educating physicians on the requirement by the Office of the Inspector General (OIG)/Health and Human Services (HHS) that all testing ordered must be deemed medically necessary. We encourage every practice to carefully evaluate each test option in conjunction with the patient's history, exam, and if applicable, Point of Care test results to make certain that all testing is appropriate and medically necessary.
As part of our compliance plan, Capital Toxicology offers full disclosure of the CPT codes we bill with, along with the corresponding Medicare fees so that providers may consider those facts as they make their test selections. Capital Toxicology performs testing based on physician directives.